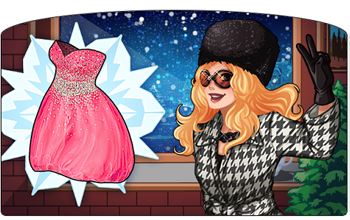 The Winter Blues Gifting Spree event was a gifting mission held during January of 2014, starting on the 22nd of January and was the first gifting mission of the year. Players were to collect 10 different items over the span of 10 days. The reward for completing this event is the Hot Pink Cocktail Gown.
Dark Days
- Use a computer to check the calendar to see when spring is coming
- Curl up on couch and imagine someplace warm
A Bright Idea
- Have the Wardrobe placed in your apartment
Winter Treasures
- Collect all the gifts to receive your Hot Pink Cocktail Gown by using your wardrobe
Day 1
22 January

Day 2
23 January

Day 3
24 January

Day 4


25 January

Day 5
26 January

Fireplace
x12

Vitamin D
x24

Sun Lamp
x21

Good Book
x18

Ice Skating
x24
Day 6
27 January

Day 7
28 January

Day 8
29 January

Day 9
30 January

Day 10
31 January

Apple Crisp
x27

Colorful Blanket
x15

Hot Cocoa
x30

Skiing
x24

Girl's Night Out
x18
The reward for completing the Winter Blues Gifting Spree mission is the Hot Pink Cocktail Gown.