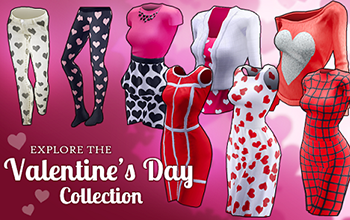 The Valentine`s Day Collection was available in January of 2014 and in February of 2013. It consists three dresses, one outfit, two tops, jeans and tights.
This collection coincided with the Valentine's Day Decor Collection.
The complete collection as previously deal costs 199 Gold.
Buying the items separately (as daily deal) costs 177 Gold, 6,120 Glam and 17,725 Coins.
Collection
Edit
Items are listed in the order that they were released.
Style
Price

Peplum Heart Skirt

31 January 2014

Outfits - 595 Points

1.000 Coin

Valentine Jacket

30 January 2014

Tops - 595 Points

18 Gold

Red Grid Dress

30 January 2014

Outfits - 385 Points

6,120 Glam

Red Windowpane Dress

29 January 2014

Outfits - 615 Points

49 Gold

Heart Tights

28 January 2014

Hosiery - 50 Points

900 Coins

Heart Dress

27 January 2014

Outfits - 560 Points

26 Gold

Heart Skinny Jeans

26 January 2014

Bottoms - 165 Points

11,520 Coins

Heart Sweater

26 January 2014

Tops - 350 Points

30 Gold