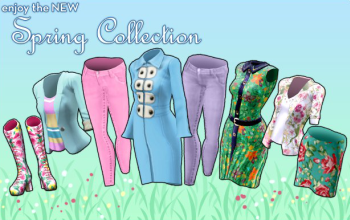 The Spring Collection was available in March of 2014 and 2017. It consists two dresses, two tops, two pants, a skirt and shoes.
The complete collection as previously deal costs 88 Gold (2014: 112).
Buying the items separately (as daily deal) costs 85 Gold, 4,000 Glam and 19,200 Coins (2014: 90 Gold, 11,000 Glam and 14,400 Coins).
Collection
Edit
Items are listed in the order that they were released.
Style
Price

Floral Blazer

29 March 2017 / 6 March 2014

Tops - 230 Points

15 Gold

Lavender Skinny Jeans

26 March 2017 / 5 March 2014

Bottoms - 165 Points

4,800 Coins
(2014: 6,000 Glam)

Teal Floral Skirt

28 March 2017 / 4 March 2014

Bottoms - 143 Points

12 Gold

Pink Skinny Jeans

26 March 2017 / 3 March 2014

Bottoms - 190 Points

2,480 Glam
(2014: 3,100)

Floral Boots

25 March 2017 / 2 March 2014

Shoes - 168 Points

1,520 Glam
(2014: 1,900)

Mint Blazer

27 March 2017 / 1 March 2014

Tops - 278 Points

26 Gold
(2014: 29)

Sky Blue Coat

24 March 2017 / 28 February 2014

Tops - 375 Points

32 Gold
(2014: 34)

Green Shirtdress

23 March 2017 / 27 February 2014

Outfits - 350 Points

14,400 Coins