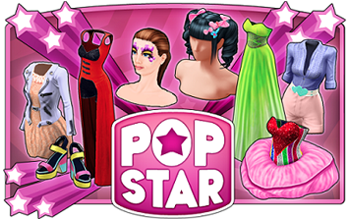 The Pop Star Collection was available in November of 2013 and August 2014. It featured a several extravagent wardrobe pieces and one piece of face makeup, which is not common in collections.
The complete collection as previously deal costs 179 Gold.
Buying the items separately (as daily deal) costs 181 Gold, 7,725 Glam and 19,975 Coins.
Collection
Edit
Items are listed in the order that they were released.
Style
Price

Neon Ombre Gown

29 August 2014 / November 2013

Outfits - 693 Points

59 Gold

Pop Star Playsuit

28 August 2014 / November 2013

Outfits - 420 Points

4,845 Glam

Sweet Peach Dress

27 August 2014 / November 2013

Outfits - 411 Points

15,640 Coins

Pop Princess Dress

26 August 2014 / November 2013

Outfits - 565 Points

30 Gold

Pop Star Platforms

25 August 2014 / November 2013

Shoes - 197 Points

4,335 Coins

Flower Eye Makeup

24 August 2014 / November 2013

Accessories - 112 Points

2,880 Glam

Pop Star Pigtails

23 August 2014 / November 2013

Hair - 384 Points

45 Gold
(DD 34 Gold)

Taylor Gown

22 August 2014 / November 2013

Outfits - 740 Points

78 Gold
(DD 59 Gold)