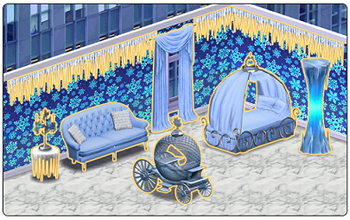 The
Ice Castle Decor
is a Decor Collection that ran in January of 2014 and 2015. It consisted of eight decor items matching the Ice Princess Theme which you can buy in decor tab.
This collection coincided with the Ice Princess Clothing Collection.
The complete collection as previously deal cost 105 Gold.
Buying the items separately costs 86 Gold, 9,400 Glam and 10,800 Coins.
Collection
Edit
Decor
Price

Velvet Sofa

228 Points
Rest: 4 stars
Couch

37 Gold
(2014: 39)

Ice Carriage

185 Points
Decor Items

6,200 Glam
(2014: 25 Gold)

Princess Bed

163 Points
Rest: 4 stars
Bed

25 Gold
(2014: 6,750 Glam)

Crystal Lamp

140 Points
Lamp

3,200 Glams
(2014: 2,350)

Ice Pillar

140 Points
Decor Items

15 Gold
(2014: 17)

Ice Blue Curtains

125 Points
Curtains

9 Gold
(2014: 10)

Icicle Table

104 Points
Table

7,800 Coins
(2014: 7,000)

Icicles

71 Points
Decor Items

3,000 Coins
(2014: 2,000)

Snowy Walls

25 Points
Wallpaper

Free Gift

White Marble Floor

17 Points
Floor

Free Gift