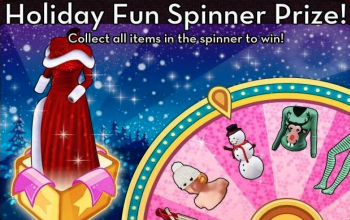 The Holiday Fun Spinner is a Spinner wheel that ran in December of 2013. It consisted of wardrobe and decor items with a holiday theme.
The Ice Skating Outfit, Sleigh Bed, Snowman, Sled and Red Wainscoted Walls were also available in December 2017 in the Cafe Raffle Spinner.
The final prize was also available in December 2015 in the Private Reserve Store.
Style
Price

Ice Skating Outfit

December 2013

495 Points

8 Gold

Ice Skating Hat

December 2013

322 Points

8 Gold

Ugly Christmas Sweater

December 2013

213 Points

8 Gold

Green Striped Tights

December 2013

119 Points

8 Gold
Decor
Price

Sleigh Bed

December 2013

330 Points
Bed

8 Gold

Snowman

December 2013

112 Points
Decor Items

8 Gold

Sled

December 2013

95 Points
Decor Items

8 Gold

Red Wainscoted Walls

December 2013

28 Points
Wallpaper

8 Gold (Replacement)
Bonus Prize
Edit
If one collects all 8 prizes, they unlock the bonus prize: The Holiday Gown.