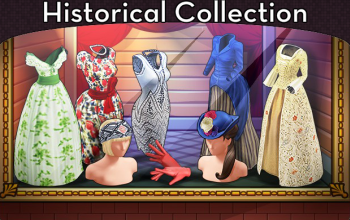 The Historical Clothing Collection was available in March of 2014 and 2016. It consists five dresses, gloves and two hairstyles.
The complete collection as previously deal costs 203 Gold (2014: 217).
Buying the items separately (as daily deal) costs 199 Gold, 13,904 Glam and 28,690 Coins.
Collection
Edit
Items are listed in the order that they were released.
Style
Prize

Flapper Head Scarf

8 March 2016 / 9 March 2014

Hair - 305 Points

5,984 Glam
(2014: 4,400)

Daisy Dress

4 March 2016 / 8 March 2014

Outfits - 600 Points

49 Gold
(2014: 52)

Irene Hat

7 March 2016 / 7 March 2014

Hair - 375 Points

37 Gold
(2014: 39)

Bustle Gown

1 March 2016 / 6 March 2014

Outfits - 640 Points

55 Gold
(2014: 58)

Fifties Dress

3 March 2016 / 4 March 2014

Outfits - 575 Points

23,200 Coins
(2014: 24,940)

Red Day Gloves

6 March 2016 / 5 March 2014

Gloves - 100 Points

5,490 Coins
(2014: 4,410)

Antebellum Gown

1 March 2016 / 3 March 2014

Outfits - 620 Points

7,920 Glam
(2014: 6,120)

Colonial Gown

5 March 2016 / 2 March 2014

Outfits - 675 Points

58 Gold
(2014: 62)