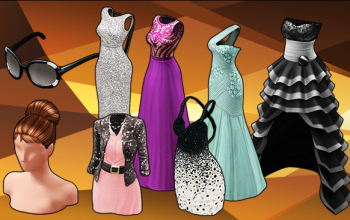 The Award Season Collection was available in February of 2014. It consists five dresses, one outfit, one hairstyle and glasses.
These fashion collection is related to the Emmy, Grammy and Oscar Award Shows.
The complete collection as previously deal costs 179 Gold (2014: 239).
Buying the items separately (as daily deal) costs 170 Gold, 9,735 Glam and 24,000 Coins.
Collection
Edit
Items are listed in the order that they were released.
Style
Price

Interview Outfit

13 March 2015 / 8 February 2014

Outfits - 446 Points

39 Gold
(2014: 45)

Governor's Ball Gown

14 March 2015 / 7 February 2014

Outfits - 730 Points

4,875 Glam
(2014: 68 Gold)

Afterparty Dress

10 March 2015 / 6 February 2014

Outfits - 423 Points

16,800 Coins
(2014: 19,920)

Presenter Gown

11 March 2015 / 5 February 2014

Outfits - 615 Points

4,860 Glam
(2014: 5,490)

Classic Updo

8 March 2015 / 4 February 2014

Hair - 250 Points

19 Gold
(2014: 22)

Flashbulb Sunglasses

9 March 2015 / 3 February 2014

Accessories - 115 Points

7,200 Coins
(2014: 9,000)

Old Hollywood Gown

12 March 2015 / 2 February 2014

Outfits - 645 Points

53 Gold
(2014: 59)

Best Actress Gown

7 March 2015 / 1 February 2014

Outfits - 760 Points

59 Gold
(2014: 74)